Description
Features
Travel ( mm ) : 2,150 / 1,100 / 900
Spindle motor ( kW ) : 15 / 18.5 ~ 30 / 37
ATC : 24 ~ 40
Net weight ( kg ) : 21,000

Full guard & rotary table are options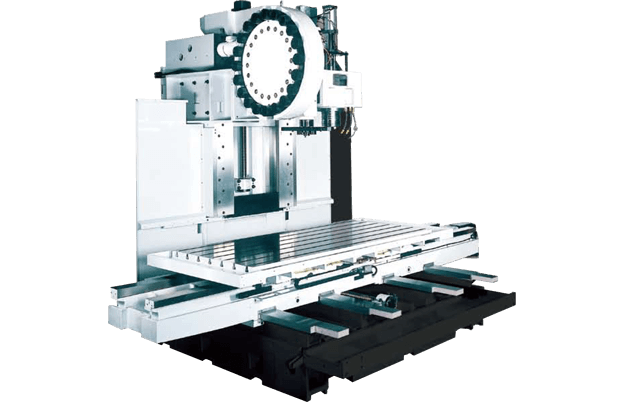 Column
The oversized box type column 908 mm ( L ) x 1,100 mm ( W ) x 2,450 mm ( H ). the best support at spindle head heavy cutting and column stiffness.
Saddle
4 meters length super heavy saddle, guaranteed no table overhang for table movement.
Table
Standard 2,200 mm x 1,220 mm extra wide working table handles big heavy workpiece.
Specification
Model
VMC-2150
Table
Overall size ( mm )
2,200 x 1,220
T slots ( size x No. x pitch ) ( mm )
22 x 7 x 160
Max. loading ( kg )
2,500
Travel
X / Y / Z axis

( opt. )

2,150 / 1,100 / 900
Distances
Spindle to column ways ( mm )
1,136
Spindle to table top ( mm )
151 ~ 1,051

( 186 ~ 1,086 )

Floor to table top ( mm )
875
Spindle
Taper ( BT# )
50

( 40 )

Speed ( RPM )
6,000

( 10,000 )

Front bearing dia. ( mm )
90
Motor ( kW )
15 / 18.5 ~ 30 / 37
Axis motors: X / Y / Z
Power ( kW )
4.8 / 7.4 / 4.8
Torque ( Nm )
30 / 40 / 30
Feedrate: X / Y / Z
Cutting feedrate ( mm / min )
1 ~ 8000
Rapid feedrate X / Y / Z
Rapid ( m / min )
15 / 15 / 15
Minmum setting
0.001
Automatic tool changer
Type of ATC
ARM
No. of atc ( tools )
24

( 32, 40 )

Max. tool ( dia. / length ) ( mm )
250 / 300
Max. tool weight ( kg )
15
Tool to tool ( SEC )
10
Chip to chip
18
Ballscrews on 3 axis
Dia. x pitch ( mm x mm )
63 / 63 / 63 x 10
Dia. x pitch ( Z axis ) ( mm x mm )
50 x 10
Precision class ( C3 ) ( mm / 300 mm )
0.008
Coolant & lubrication
Coolant motor power ( kW )
0.86
Coolant tank volume ( L )
350
Coolant motor capacity ( L / min )
20
Lubrication motor power ( WATT )
25 x 2
Lubrication tank volume ( L )
4
Accuracy
Positioning ( Micron / mm )
± 5/300
Repeatability ( Micron )
3
Roundness ( mm )
10 / 300
Miscellaneous
Net weight ( kg )
21,000
Power required ( KVA )
35
Pneumatic required ( kg / cm2)
7